Multi-vendor Ecommerce Platforms: The Ultimate Guide
Last Updated:
Multi-vendor Ecommerce stores or marketplaces provide passive or hands-free income to the marketplace owner when done right. But for entrepreneurs who can conceive and execute their own secret sauce, choosing a scalable and a reliable multi-vendor Ecommerce platform is a headache and a time consuming process and may burn your fingers!
The opportunities for building the next million dollar Multi-vendor Ecommerce store is unlimited where everything is moving online, and brick and mortar businesses are in the deathbed.
Ultimate Disclaimer: Use your wisdom and seek the help of an eCommerce expert when building a multi-vendor eCommerce platform. Also I haven't sprinkled any affiliate links in this article, so don't fire any missiles against me! (I'm a peace lover and a follower of Mahatma Gandhi)
So lets dive more into Multi-vendor Ecommerce Platforms a.k.a Marketplaces in detail and let's find out which is the best multi vendor shopping cart software or if something like that really exists!
Keep your reading glasses handy…
Multi-vendor(Marketplace) Ecommerce Platforms – An Introduction


From giants like eBay and Amazon to niche players like Etsy, marketplaces are everywhere and is not limited to US alone. Ecommerce marketplaces swallow 90% of the total eCommerce traffic all over the world whether its in China(Taobao/Aliexpress) or in India(Flipkart/Amazon/Snapdeal)
Marketplaces will be having more advanced and specialized functionalities than a normal eCommerce store in terms of :
Transactions
Shipping
Returns & refunds
Multiple vendors management
Payment and commission processing and disbursal etc.
High level server capability to take care of Slashdot effect
But architecting and developing a multi-vendor platform is not a child's play and its not going to be a 100% success even if you are having the world's most experienced eCommerce developer in your team!
It all boils down to three items namely,
Making the right decisions at each stage of development
Doing things right
Proper Analysis of Business & Market needs
Must Have Features for Multi-vendor Ecommerce Software or Platform
Responsive/Mobile Friendly – Don't ignore the small screen
Mobile now accounts for two-thirds of the time people access digital media in the U.S.  This is the same phenomenon all over the globe.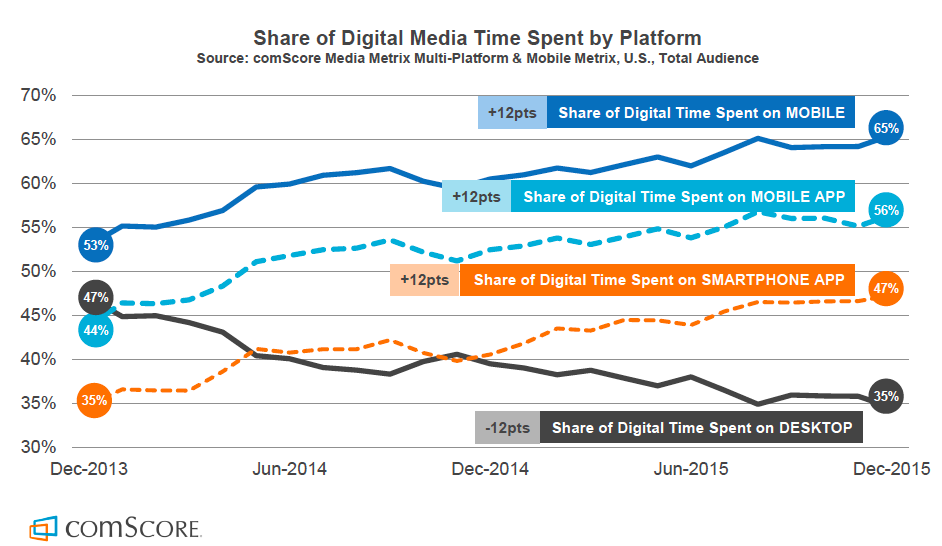 And mobile is still booming: Media time spent on phones is up nearly 80 percent in the last two years.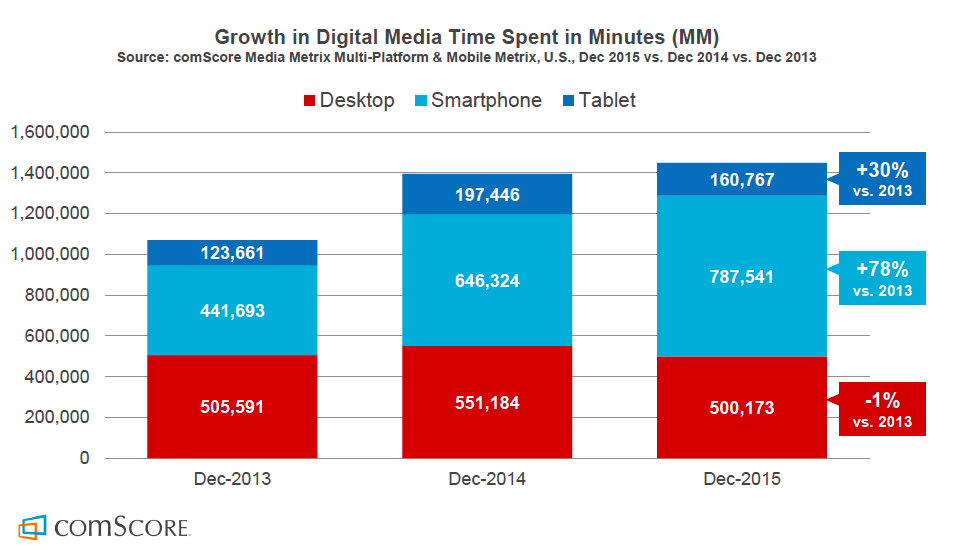 Also, mobile-friendliness is a strong ranking signal in the eyes of Google.
Front-end Customization – Because first impression is the best impression
A highly flexible and easy-to-modify front-end is a necessity for conversion rate optimization (CRO) and to enhance user experience (UX). The front-end should never stand in the way of a designer or developer. Enough said!
SEO – Can People Find You?
The SEO of most Ecommerce sites SUCKS to the core. The sad fact is that the Search Engine Optimization for e-commerce websites is much harder than it is for blogs or simple 5 page company websites.
And eCommerce SEO is not limited to product pages alone, but the whole process applies to:
Category Pages
Optimising Product Title Tags
Optimising Product Meta Descriptions
Optimising Product Images
SEO URLs for product and category pages
Fixing Errors with Structured Data etc.
Product Suggestions – Guide them
Product Suggestions is a form of upselling and comes in two avatars, one in the product page which provides suggestions of similar products for the customer. It can also be used to highlight the best selling and the recommended products.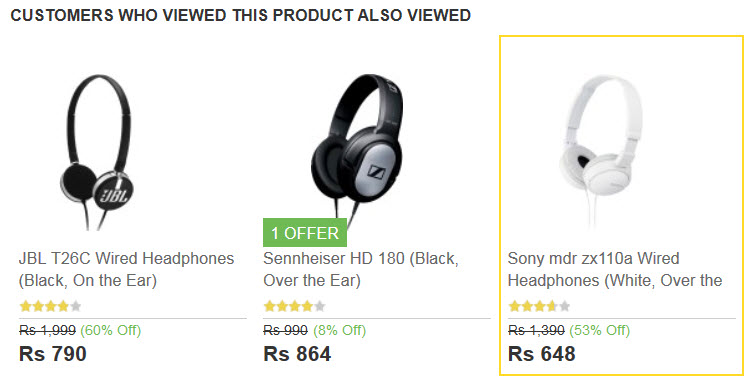 The second one is in the form of 'customers who bought this item also bought' which showcases the frequently bought together products. This is a very easy strategy for boosting marketplace revenue.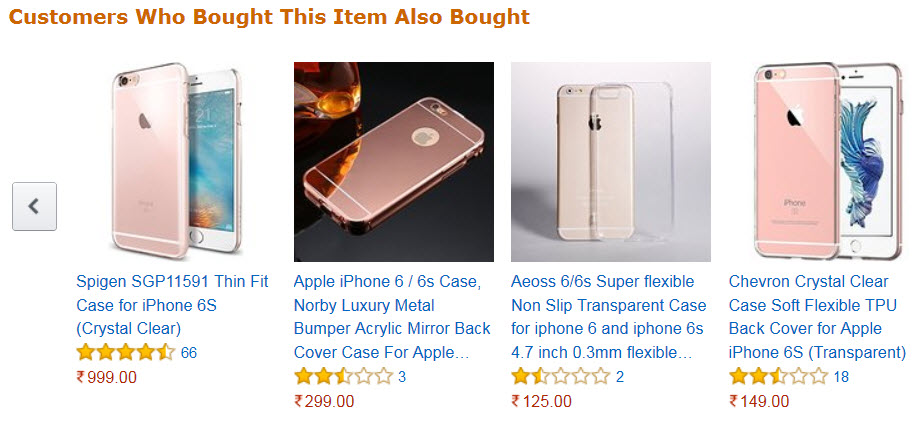 Instant Search – People are impatient
Do you know that people perform more product research on Amazon than on Google?  You can read more about it here and here.
One of the reasons for the early success of Amazon was its blazingly fast instant search suggestions. Instant Search allows visitors to select and continue shopping without extensive research.
Online customers are always impatient and may got to another store if they couldn't find what they are looking for and its very easy to open a new browser tab than driving your car to the next store! Other issues is that they may commit typos when searching and instant search fixes both the issues for the marketplace owner.
Shop by Brand/Vendor – Don't forget the brand conscious
Allowing a customer to shop by a brand under any category is one of the most important features for a marketplace. Also the customer should be able to filter the brand listings.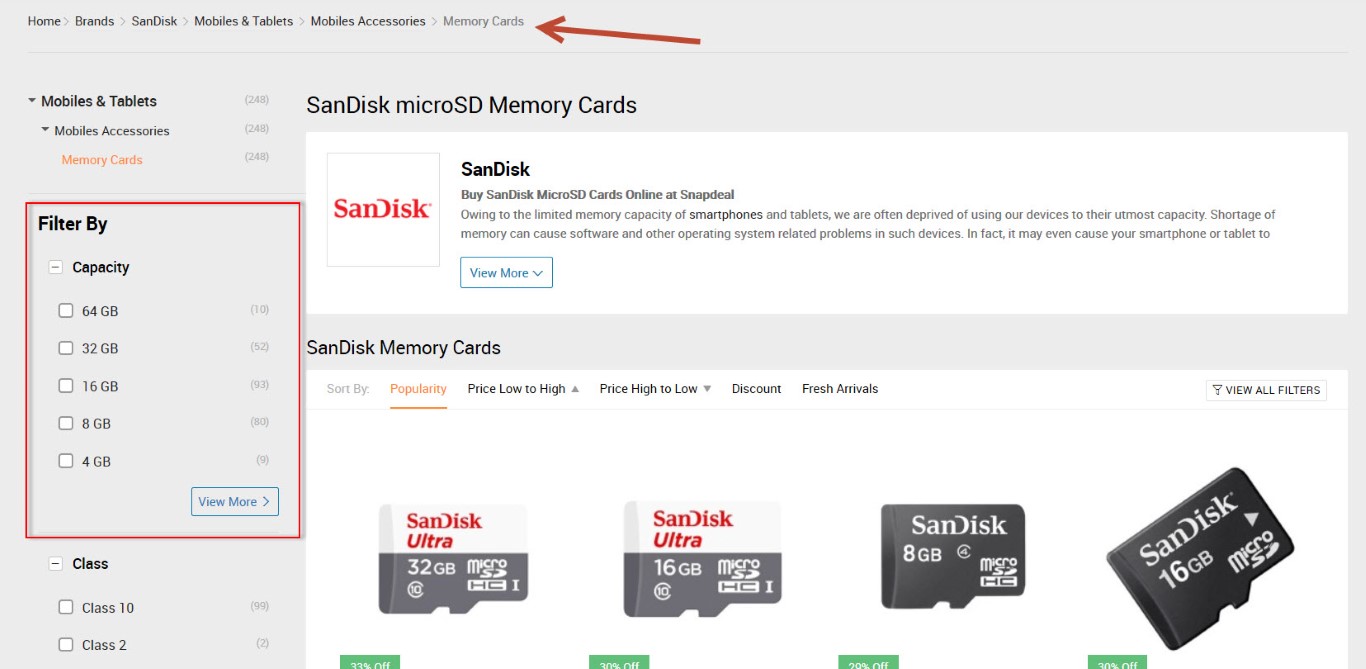 Another noteworthy feature employed by eBay is a dedicated store with a permanent URL for every vendor so that the customer can browse the entire range.
These are all marketing strategies employed by online retailers to increase loyalty and stickiness among the brand conscious customers.
Order Management – Your High Five moment
eCommerce customers are shopping online in the first place due to convenience, control and flexibility and they want the same control and flexibility when making orders. They expect quick delivery, fulfillment options that meet their needs and the ability to make returns in the most convenient way.
The return merchandise authorization (RMA) system should be perfect so as to take care of the returns since the complexity is multi-fold in a marketplace simple because multiple vendors are involved.
Marketing & Analytics – To stuff your bank
eCommerce Marketing & Analytics won't fit into this 2000 word guide if I start writing, so I will abridge some important points without making your grey hairs stand up!
Some of the basic features include:
Social Media sharing
Product Up-selling
Abandoned Carts Reminders
To add customer reviews
Product feeds
Failed Order analytics
…and much more
Shipping – The Aha moment
Shipping orders and managing the inventory can be painful, there are many steps between receiving an order and the customer receiving their products.
In a marketplace, the order shipping consists of mainly three ways, namely:
Fulfillment by yourself
Fulfillment by the vendors(like Drop-shipping)
Using a Fulfillment service
Here is a visual example from Snapdeal where the marketplace itself fulfills the orders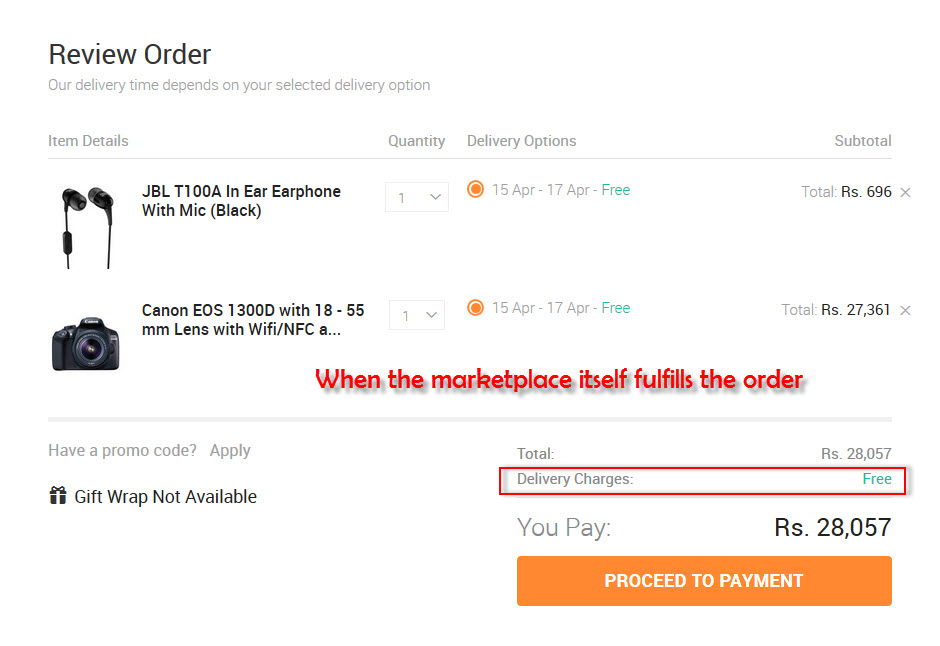 Here is a different example from notonthehighstreet.com where the specified vendor(s) does all the hard work!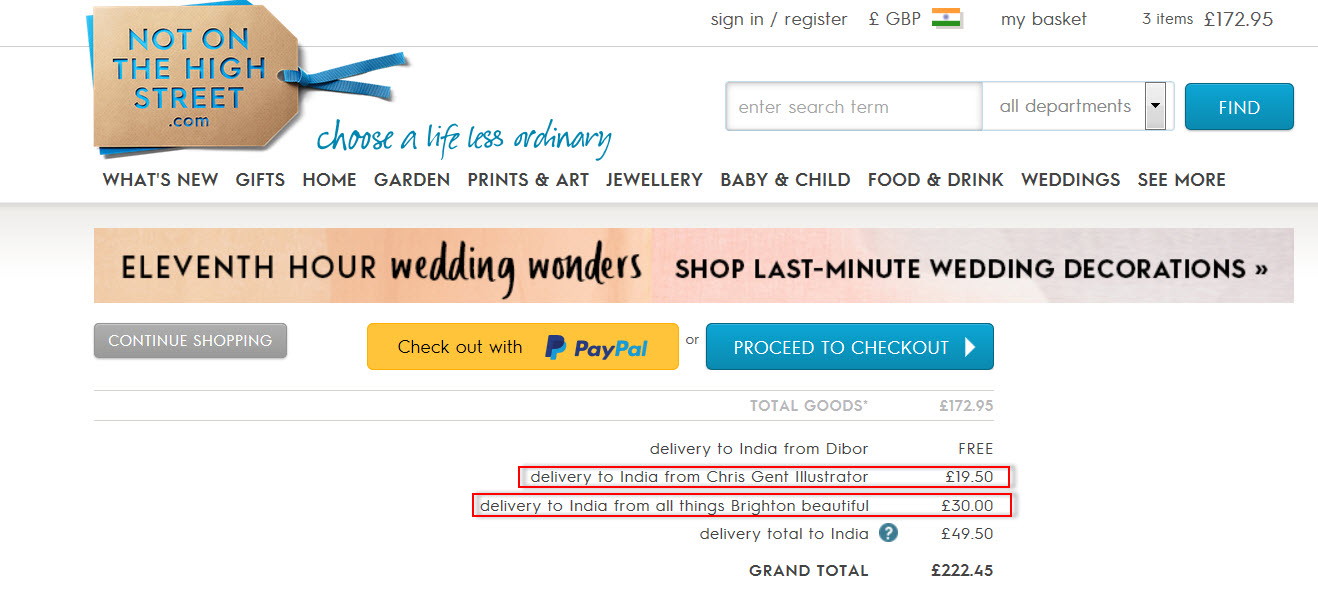 Payment Processing – You want the money in your bank?
Payment processors/gateways is an indispensable part of every online businesses that takes money. But they come in different sizes and shapes!
Integrating the right payment processor to the marketplace using the payment API is a necessary evil!
You may also need to take care of different payment API's for different payment methods like Credit Card, Paypal, Debit Card, Net Banking, Cash on Delivery, EMI options, Gift Voucher etc.

Performance – Every second counts
Amazon once reported that one second of load delay cost them over $1 billion in annual sales. Speed is a killer and decreasing page load time can drastically improve conversions.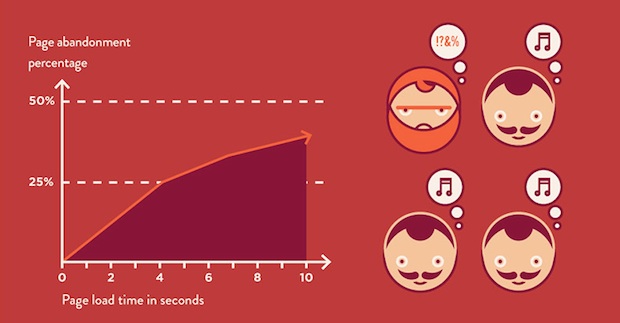 And the need for performance should be kept in mind right from the start of architectural design till the day when the site is made live and this applies to both the front-end design and development phases.
eCommerce performance optimization is a never ending, continuous process. But most of the inexperienced folks jump into performance optimization after the marketplace is made live!
—-
Finally we can divide the Multi-vendor eCommerce software platforms into two main categories, namely
SaaS/Cloud-based
Self Hosted off-the-shelf
Custom Developed or Bespoke
1. SaaS/Cloud-based Multi-vendor Ecommerce
While there are dozens of hosted(SaaS) shopping cart systems available online, the market is dominated by the three big guys, Shopify, Volusion and BigCommerce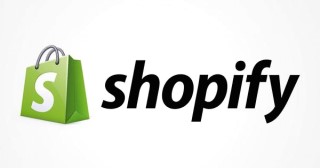 Shopify by default does not provide any way to create Etsy-like multi-vendor marketplace. 
Pros
A mini or a basic marketplace can be created with the help of apps
Cons
Lack of default marketplace features. May need to depend on 3rd party Shopify apps
Flexibility
Not recommended for a marketplace due to lack of customization and flexibility that commonly plagues hosted shopping platforms.
Can marketplace functionality be added:
Yes, through apps. But in my humble opinion, its very limited. Ex: https://apps.shopify.com/multi-vendor-marketplace


Pros
None for a ecommerce owner who wants to build a marketplace
Cons
Flexibility
Extensibility & Configuration
Very limited Apps
Can marketplace functionality be added: Nope


Although its a little bit better than Volusion in the context of an Enterprise Ecommerce Solution, BigCommerce also ails like other the two when it comes to multiple vendor functionality.
Pros
None for a ecommerce owner who wants to build a marketplace
Cons
Flexibility
Extensibility & Configuration
Lack of features even in the Enterprise plans
Can marketplace functionality be added: Couldn't find any reliable ones.

Pros
Agility and speed of deployment
Good Tech stack
Cons
Difficult to customize
Needs a technically competent person in your team
Good for those who are having $1000K of liquid cash or VC money!
You may need to routinely replenish your bank a/c for development or support works!
2. Self Hosted Off-The-Shelf Multi-Vendor Ecommerce
There is a general perception that running a a marketplace using open source multi vendor cart software is easy as making a few clicks here and there and the work is over if they know how to download and install it!
But the reality is very far from that when it comes to free multi vendor shopping cart software and customization is more complex than that. It requires tech-know how and expertise even to launch the beta version of your store!

Pros
High security
Scales well
Flexible architecture
Cons
Heavy and complicated
Development is costly
Needs a techie in your team
Requires stronger server, large disk space and memory
All the extensions may not provide even 95% of marketplace features that you need.
Too many extensions spoil the broth!
Marketplace Extensions(not in any specified order)

As of late 2015, one in four websites on the internet is powered by WordPress. And WooCommerce powers approximately 8-20% of eCommerce stores and is a fairly popular kid in the eCommerce neighborhood and with mom and pop shops.
Pros
Nothing for a multi-vendor eCommerce system
Cons
Performance issues
Too much of WooCommerce extensions may play spoilsport
Heavy customization may break your bank!
Pros
Easiest to get running for the first time timers and for those who are having zero tech knowledge
Available in two flavors: a hosted version and a self-hosted, open source version.
Cons
Experienced Sharetribe Developers are costly and difficult to source
Difficultly in customizing for high end needs
Integration of local payment gateways is a tough job without developer support
Sharetribe does not support right-to-left(RTL ) languages like Arabic or Hebrew.
Thin Community


Hybris is omni-channel at its core and it integrates all digital and physical customer touchpoints onto a single platform – including online, mobile, point-of-sale, call center, social media and print.
Pros
Quick Deployments, for a faster time to market
Loads of features
Cons
Good for those who are having $1000K of liquid cash or VC money!
Development or support may break your back
Heavy learning curve
3. Custom Developed or Bespoke Multi-vendor Ecommerce Platform
It doesn't matter whether you build the maketplace using any programming language like PHP, Ruby or C# or the old dying warhorse, Java.  What it matters is that whether it suits your needs and will it will scale for the future.
Pros
Tailored to you. The software is developed and built to meet your specific requirements, ensuring that you get software that works exactly how you need it to and delivers the results you want.
More flexibility allows you to match your changing requirements.
Competitive advantage. An effective software package can make a company work more efficiently, improve their performance and have a positive impact on customer satisfaction levels.
No need to pay extra per-user fees as your business grows.
You own the intellectual property, so you are not tied to a specific vendor that could potentially disappear at any time.
Cons
Management & development overheads unless you have a right team
Takes time depending on size and complexity
The Others(not even worthy of mention)
There are lots of other standalone marketplace scripts that trades for less than $500 in marketplaces like CodeCanyon or Binpress.
The same is the situation for extensions/apps for other eCommerce platforms like Prestashop, Opencart or for CMS'es like Drupal eCommerce/Joomla etc.
Most of these kiddies provides just bare basic functionality and may prove to be costlier in the longer run as far as long term maintenance or security is concerned. So better be safe than sorry!
Conclusion…Which is the best path?
There is no one-size fits all answer to this question. No matter which path you take, marketplace or multi-vendor functionality will require development expertise to implement without any fails unless you are an omniscient guy!
Personally I would recommend going for a custom marketplace solution; because I'm a big fan of Amazon's business model where they always focus on long-term growth. This is the biz model that I would recommend for every eCommerce marketplace entrepreneur.
You don't need to add all the features in one go. You can launch it as a MVP
Meet the Author
Responses